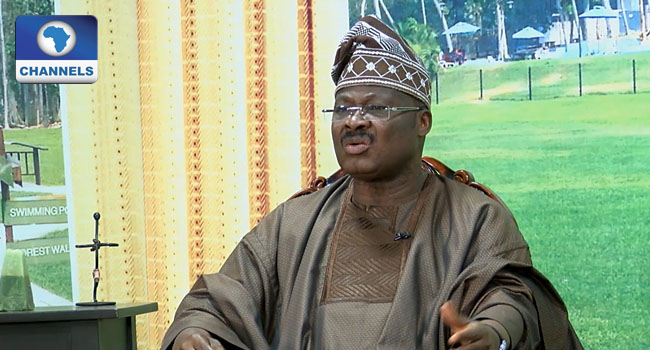 Governor Abiola Ajimobi has said he will not support the Minister of Communications, Adebayo Shittu, in his bid to succeed him as governor of Oyo State.
The governor said this during an exclusive interview with the Channels Television's programme, Roadmap 2019, which aired on Monday night.
Although the governor and the minister, who has since declared his intention to run for governor of the state in 2019, are members of the All Progressives Congress, the governor doesn't consider him qualified for the role.
Asked if he would support Mr Shittu, Governor Ajimobi replied in the negative.
"He doesn't have what it takes to be a governor," the governor said. "I have been a governor now for seven years. I know the qualities of someone who should be a governor; he doesn't have it. His temperament cannot be that of a governor."
As far as Governor Ajimobi is concerned, governors must be reserved and should have proven themselves in their field of expertise, something he believes he achieved before going into politics.
"I was an oil and gas man. I rose to the peak of my career as a managing director," he said, stressing that he did not work for just any company but rose through the ranks to become MD of a subsidiary of Shell Petroleum.
"Not only in Nigeria but outside Nigeria. I was chief executive of Shell (Petroleum) companies outside Nigeria," he added.
Despite ruling out the governorship credentials of Mr Shittu, the governor insists he has nothing against the minister. He also believes the communication minister is free to go ahead and contest in the elections.
As far as Governor Ajimobi is concerned, he is only stating what he believes to be the facts.
"If you behave unconventionally and I say you behave unconventionally, is that derogatory? I have nothing against him, to be honest. I just like people to have decorum, I like people with style," he said.
The Oyo governor who was in office when President Muhammadu Buhari appointed Mr Shittu to his cabinet in 2015, distanced himself from the appointment.
When asked if he believes Mr Shittu would have been appointed minister if he truly lacked the qualities the governor claims he lacked, Governor Ajimobi said the APC in Oyo was against the appointment.
"The party didn't support the nomination," he said.
Both have engaged in a war of words in recent months with the 2019 elections six months away.
Mr Shittu who went into politics early in life and was elected into the Oyo State House of Assembly at the age 26 in 1983, has accused Governor Ajimobi of being desperate to stop him from becoming governor.
In May, after the ward congresses of the APC, the minister was quoted as saying, "He (the governor) thinks that I am too principled, firm, unbendable and uncompromising when it comes to the issues of morality. It is he who is desperate to stop me, not me being desperate to become governor."
Ultimately, the governor believes it would be up to the people of Oyo State to decide who would govern them should the minister become a governorship candidate after party primaries.
As things stand, Governor Ajimobi believes there are "many people" who are better qualified to become governor of the state.