Nigeria faces troubling times amid economic woes and insecurity challenges and the presidential poll will be a major decider in the fate of over 200 million people in the next four years. At least 93,469,008 eligible Nigerian voters will go to the polls on Saturday, February 25 to elect the next President of the most populous black African nation among 18 of the contestants.
Meet the 18 presidential candidates:
Imumolen Christopher – Accord Party (AP)
Arguably the youngest of the candidates, Imumolen Christopher, 39, is a graduate of Mechanical Engineering who hails from the Esan West Local Government Area of Edo State. His running mate, Bello Bala Maru, is from northern Nigeria.
Al-Mustapha Hamza – Action Alliance (AA)
Hamza Al-Mustapha, 62, a former Chief Security Officer to the late Nigerian Head of State, General Sani Abacha is an alumnus of the Nigerian Defence Academy in Kaduna. He was a career military officer for about two decades. Not a newbie in the race, Al-Mustapha, from Yobe in Nigeria's North-East was the presidential candidate of the defunct Peoples Party of Nigeria (PPN) in 2019. He has a southerner, Johnson Emmanuel Chukwuka, as his running mate.
Sani Yabagi Yusuf – Action Democratic Party (ADP)
Yabaji Sani Yusuf, 68, doubles as the National Chairman of the Action Democratic Party (ADP) as well as the Chairman of the Inter-Party Advisory Committee (IPAC). He holds a first degree, according to the Independent National Electoral Commission. He is running alongside, Udo Okey Okoro.
Omoyele Sowore – African Action Congress (AAC)
Omoyele Sowore, 51, from Ondo State in South-West Nigeria is a graduate of the University of Lagos. Sowore has been detained a number of times by the Department of State Services for human rights activism. He previously ran for president in 2019 under the banner of the AAC but lost. He is running alongside a northerner, 45-year-old Magashi Garba.
Kachikwu Dumebi – African Democratic Congress (ADC)
Kachikwu Dumebi is a media entrepreneur and founder of Roots Television Nigeria. The 40-year-old is a younger brother of a former Nigerian Minister of State for Petroleum Resources, Ibe Kachikwu. A first-timer in the presidential race, Dumebi, from Delta State, is running for Aso Rock top job with a northern running mate, Buhari Muhammed.
Bola Tinubu – All Progressives Congress (APC)
Bola Tinubu was governor of Nigeria's commercial capital, Lagos, from May 1999 to May 2007. He was the Senator for Lagos West in the brief Third Republic. The 70-year-old politician, according to INEC data, has a Bachelor of Science in Business and Administration. Tinubu, the flag bearer of the President's party, is running alongside a former governor of Borno State, Kashim Shettima.
Peter Umeadi – All Progressives Grand Alliance (APGA)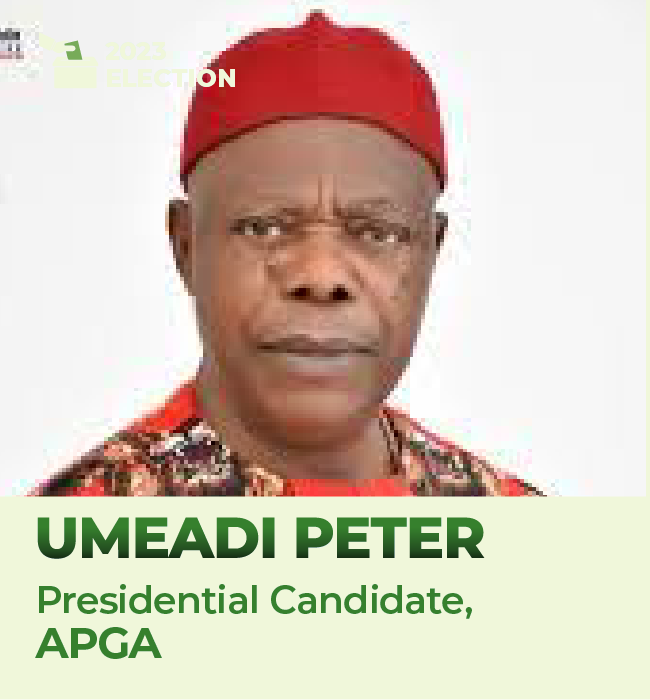 Peter Umeadi, a Professor of Law at the University of Nigeria, Nsukka, is a former Chief Judge of Anambra State. The 67-year-old academic-turn-politician from the South-East geopolitical zone has a northerner, Mohammed Koli, 65, has his running mate.
Ojei Princess Chichi – Allied People's Movement (APM)
The only female presidential candidate in the race, Delta-born Ojei, 44, was educated at the American International School and the Agos Lerosey Rolle, Switzerland, according to INEC. The daughter of Emmanuel Ojei, the founder, chairman and chief executive of Nuel Ojei Holdings, also a first-timer, is running alongside Ibrahim Mohammed.
Nnadi Charles Osita – Action Peoples Party (APP)
Nnadi Charles Osita, 49, is one of the first-timers in the race. The APP candidate has first school leaving certificate Senior Secondary School Certificate, according to INEC data. He has a northerner, Hamisu Isah as his running mate.
Sunday Adenuga – Boot Party (BP)
Sunday Adenuga, 48, doubles as the national chairman of the Boot Party. Adenuga is a technology expert who has worked on projects by the World Bank and the African Development Bank. The first-timer from the southern region of Nigeria is running alongside a northerner, Usman Mustapha.
Peter Obi – Labour Party (LP)
Peter Obi, a graduate of Philosophy from the University of Nigeria (UNN), is a former Governor of Anambra State from 2006 to 2014. The 61-year-old businessman was the vice presidential candidate of the Peoples Democratic Party (PDP) in the 2019 elections but left the party early 2022 to clinch the LP presidential ticket. Many pre-election polls have predicted victory for Obi, who is running alongside Kaduna-based Datti Baba-Ahmed.
Felix Johnson Osakwe – National Rescue Movement (NRM)
Though not a neophyte, Felix Johnson Osakwe hails from Delta State. The development expert has a Master of Science degree and is running with Kyabo Yahaya Muhammad.
Rabiu Kwankwaso – New Nigeria People's Party (NNPP)
Rabiu Kwankwaso, 66, is a former governor of Kano State, and an ex- Minister of Defence. The PhD holder commands a "cut-like following" in North-West Nigeria with his socio-political movement, Kwankwasiyya movement with strong presence in Kano and other states. Pre-election polls have positioned Kwankwaso as one of the top four contenders in Niger'a's 2023 presidential poll. The ex-governor, known for his red cap, is running alongside a southerner, Isaac Idahosa.
Atiku Abubakar – Peoples Democratic Party (PDP)
A former Vice President from 1999 to 2007, Atiku Abubakar, 75, is ranked as one of the top four contenders for the poll. The former customs officer has aimed ambitiously at Nigeria's top seat in Aso Rock for about three decades. Atiku was PDP presidential candidate in 2019 but came second with over 11 million votes, closely behind the winner, Muhammadu Buhari who polled over 15 million votes. Atiku is running this time with Delta State Governor, Ifeanyi Okowa.
Kola Abiola – Peoples Redemption Party (PRP)
Kola Abiola is the son of the late Moshood Abiola, the presumed winner of the annulled June 12, 1993, presidential election. The Master degree holder and businessman is running alongside Zego Haro Haruna, a northerner.
Adewole Adebayo – Social Democratic Party (SDP)
Adewole Adebayo, 50, is a lawyer and philanthropist from Ondo State in South-West Nigeria. The public commentator is running alongside Buhari Yusuf.
Ado-Ibrahim Malik – Young Progressive Party (YPP)
Ado-Ibrahim Malik is one of the sons of the Ohinoyi of Ebira land in Kogi, AbdulRahman Ado-Ibrahim. The 58-year-old economics graduate and rights activist has a southerner, Enyinna Kasarachi, 44, as his running mate.
Nwanyanwu Daniel – Zenith Labour Party (ZLP)
Dan Nwanyanwu, 62 doubles as the party's national chairman. The Imo-born politician and lawyer is running alongside a northerner, Abubakar Jibrin.