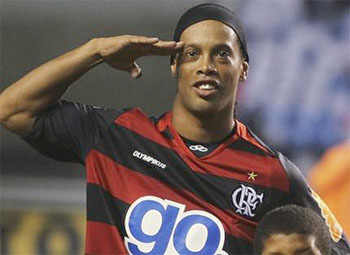 Ronaldo de Assis Moreira popularly known as Ronaldinho or Ronaldinho Gaucho has scored a point against his club Flamengo as a Labour court in Brazil gave the Brazilian a nod to terminate his contract with the club.
According to the two-time winner of the FIFA World Player of the Year, the reason for suing Flamengo was because the club has not been able to meet up with the payment of his wages as he is being owed four months unpaid wages, the judge however acceded to the player's request on this ground.
Ronadlinho's advisors have started plotting new means of getting the unpaid wages from the Brazilian club after he got a go-ahead to leave the club.
Having pulled out of an agreement concerning his wages, Flamengo is now left to foot the bill for his €500,000 a month wages. An obligation they have been unable to meet.
Arguments between the club and the former Barcelona star over the exhibition of non-professional behaviour went sour after his wages were not paid.
Ronaldinho generated more headlines for missing training and for his social activities which led to his failing to have the desired impact at Flamengo, showing his quality in flashes and above all not being mentioned in the Selecao regular, a chance he used to enjoy for his quality display of football on field.