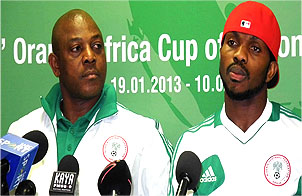 Super Eagles Coach, Stephen Keshi, has said he is doubtful of defender Joseph Yobo's return and that of Victor Moses for the final group clash against Ethiopia which is a must-win for the Super Eagles.
Victor Moses who was side-lined against Burkina Faso in Nigeria's opener which ended in a draw due to injury, was later fielded in the second game against Zambia which also ended in a draw and has also been declared not fully fit. Yobo was side-lined in the second game due to ankle injury in the first game. The defender has also been declared not fully fit but are both in training with the squad.
According to Super Eagles Group C standing, the Super Eagles must record a significant win with more goals against Ethiopia in the final group match on Tuesday if they want to scale through the group clashes into the quarterfinals.
Keshi said this while speaking to journalists even though he has not made his final decision on the two players.
But on hand for Yobo's replacement is reserve defender Azubuike Egwuekwe, who has recovered from illness.
With second batches of games done with in group C, Burkina Faso are the group leaders with 4 points after thrashing Ethiopia 4-0, while Zambia who are on the second spot played a 1-1 draw with the Super Eagles with 2 points and Nigeria on the third spot with 2 points also and lastly Ethiopia with 1 point.
Winners of the group will be meeting Togo in the next round while the second qualifier from the group will meet Cote d'Ivoire.