NFF Rules Out Long Camping Ahead Of Brazil 2014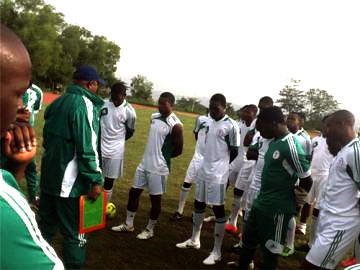 The Nigeria Football Federation has told the chief coach of the national team, Stephen Keshi that it won't be business as usual as he shouldn't expect to have long camping ahead of the World Cup in terms of training, because the financial implication is not looking good for the federation.
In the run-up to Afcon 2013 in which the Super Eagles of Nigeria were crowned African champions, coach Keshi had the luxury of setting up training camps for at least four weeks before each qualifier, thereby giving local players adequate time to be in camp before the foreign players reported.
According to the NFF, these camps have had serious implications financially on the Federation's revenue. Besides, coach Keshi, who is expected to forward his list of call-ups for the World Cup qualifier at home against Kenya to the Nigeria Football Federation this week, already has the master plan for his games and those players that fit into his game plan.
"Camping for the Eagles will not be like before where they stay in camp for like a month before a game, as the Super Eagles coach already has a clear picture of his team and as such we don't expect him to have an extended camping like it used to be."
The Eagles are expected to open camp next month with players from the domestic league before they are joined by their colleagues from Europe a week leading to the March 23 clash in Calabar.