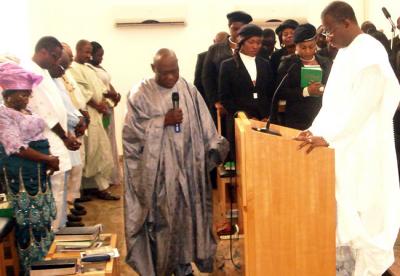 President Goodluck Jonathan has said that Nigerians owe former President Olusegun Obasanjo an "enduring debt of gratitude" for his contribution to the development of the nation.
In a letter congratulating the former Head of State on the occasion of his 76th birthday, President Jonathan extended felicitations of behalf of his family and the country.
"On behalf of my family, the Government and people of the Federal Republic of Nigeria, and on my own behalf, I write to express warm felicitations to you on the occasion of your 76th birthday anniversary which comes up on Tuesday, March 5th, 2013; the letter states.
"Over the years, you have always readily given of yourself to the cause of the peace, stability, growth, and development of our country, Nigeria. For this, we owe you an enduring debt of gratitude.
"As you celebrate with family, friends and well-wishers I pray that Almighty God continues to guide, guard, and prosper you, even as He blesses you with many more years of robust health and abiding fulfillment," President Jonathan wrote.
Former President Olusegun Obasanjo was born on March 5, 1937.
Lucky To Have Obasanjo

The Northern Governors Forum (NGF) has also paid tribute to the former President, saying Obasanjo has lived a fulfilled life of service to Nigeria and humanity.
The Chairman of the Forum and Governor of Niger State,  Muazu  Aliyu said at 76, Chief Obasanjo has remained the reference point on good governance, statesmanship, diplomacy, conflict resolution and prudent management of resources.
"Nigeria is lucky to have former President Obasanjo at every twist and turn in our march to nationhood," the forum said in a statement.
The forum recalled that Chief Obasanjo had a distinguished carrier in the military and then went on to become Head of State and later democratically elected president, during which period he showed rare vision, courage and exemplary leadership.
They noted that they are "proud to be associated with the achievements of the former leader, especially his contribution to the deepening of the nation's fledgling democracy."