Three Buildings Owned By Kidnappers Demolished In Anambra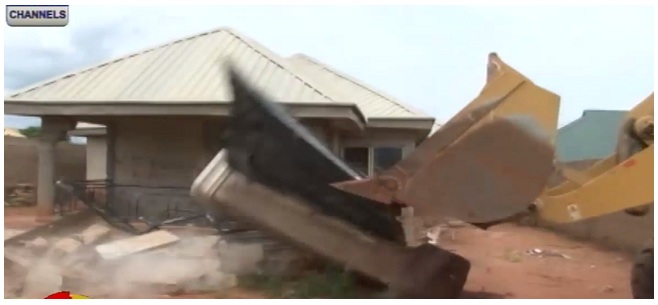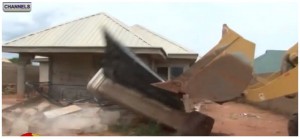 The operation Stamp Out kidnappers in Anambra State on Friday got to a high point with the demolition of three hide out locations kidnap victims are kept.
The three hideout locations in Aguleri, Anambra East local government area, built by kidnap kingpins, were completely demolished as directed by the state governor, Willie Obiano, as he goes tougher against crime and criminality in the state.
The governor sent a warning note to all landlords to be wary of activities going on in their property or risk losing them, as the war against kidnappers and armed robbers has been intensified. The demolition team was led by the state commissioner of police and the joint security operation.
The first building was located at Ezi Agulu, Aguleri in Anambra East Local Government Area and owned by a notorious kidnap kingpin, Onyeamuma, from Nsukka in Enugu State who was killed in a gun battle with the police at Otuocha few years ago.
No Hiding Place
The second building demolished was located at Agu-owele, Enugwu Aguleri built by a consortium of kidnappers at the cost of 17 million Naira  and also used for keeping kidnap victims while the third was built at Umuaneri Aguleri belonging to a kidnap suspect called Anamako, who allegedly kidnapped the traditional Prime Minister of Enugwu-Ukwu.
The Special Adviser also said the governor had also directed that buildings built with proceeds from kidnapping and armed robbery or used for the same purpose would be demolished as well.
He added that aside demolition, the government would revoke the ownership of the property and take the land. A kidnap victim from Aguleri commended the government for the exploits and recounted his ordeal in the hands of the kidnappers which left one of his legs devastated.
In another development, the State Police Command paraded eleven kidnap and armed robbery suspects at the Headquarters of the Special Anti Robbery Squad, Awkuzu.
Parading the suspects, the state police spokesperson, Emeka Chukwuemeka said the suspects were arrested at Nnobi, Okpoko, Onitsha and Enugwu-ukwu.
In his reaction, the state governor said the arrests and the demolition would serve as a signal to kidnappers and armed robbers that they have 'no hiding place' in Anambra.
The governor said more criminals' buildings already established as hideouts would be demolished in the coming days while commending the efforts of the police and the Joint Security Operation