#BringBackOurGirls Group Says Security Agencies Must Stop Attack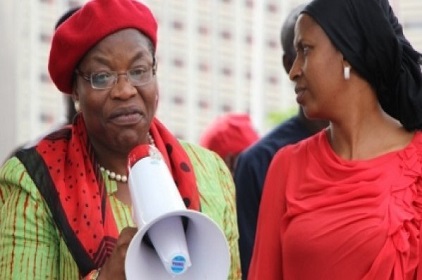 The #Bring Back Our Girls# campaign has revealed that its group has been facing harassment and intimidation from the security agencies for over two months with a request that this must stop.
In a press release on Thursday, in Abuja, the organisation described the Deputy Director of Department of State Security, Merilyn Ogar's statement on Wednesday as a "false allegation, dangerous and unprecedented attack".
According to the group's statement, Mrs Ogar had affirmed that the security forces knew the activity of the group and had claimed that they visit prominent individuals to solicit funds. The agency also said that it knew that they had split themselves into groups and was planning a protest march to look as if they went to Chibok.
The Organisation stated that they had always remained a single-issue coalition without any political, religious, ethnic or regional dimensions to their struggle.
"There is a clear attempt to smear our work with a link with Chibok and Sambisa forest. It is clear from these comments that the security agencies are setting up the movement for a crackdown based on trumped up accusations.
"Our activities are open and our meetings are in a public space, the Unity Fountain. There is no compulsion to membership and our symbols such as the red t-shirts, face caps and pins are donated voluntarily by members", the organisation emphasised.
The #Bring Back Our Girls# campaign group also noted that they had been motivated by empathy and a need to search and rescue the Chibok girls, and wondered why they were rebuffed and threatened by the Security Agency who were responsible to protect citizens trying to do a good turn.
In the joint statement by leaders of the group, Oby Ezekwesili and Hadiza Bala Usman, they added that the Director of Information, Defence Headquarters, Chris Olukolade, had allegedly claimed that they were "trying to pitch public opinion against the Armed Forces and to project the Nigerian military in bad light and further heat-up the polity, and trying to drag the military into politics". They opined that the statement by Mrs. Ogar on Wednesday had escalated the accusation by Olukolade "to a higher level".
The statement further read; "We are conscious of our rights and responsibilities as citizens and we are exercising them to remind Government of their own responsibilities to provide security to citizens and rescue those in distress. We cannot be stopped from exercising our citizenship rights through intimidation. Far from seeking to undermine the efforts of the security agencies, we seek to enhance it and make it more robust and effective. Our concerns about the lack of results so far, 87 days after these girls have been abducted, are aimed at motivating the security agencies to more effective action."
The #Bring Back Our Girls# campaign  started after the abduction of the School Girls in Chibok, Borno State and the statement comes 87 days after the girls were abducted.