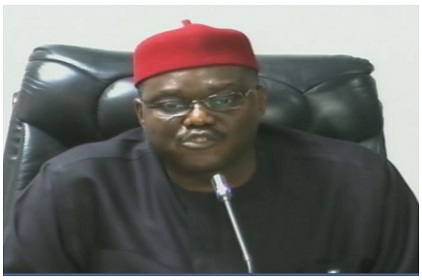 The Minister of Health, Professor Onyebuchi Chukwu, has confirmed the outbreak of Ebola virus in Nigeria.
Professor Chukwu told journalists in Abuja that laboratory tests have confirmed one Ebola death in Lagos.
According to the Minister, the victim was a 40 year old man from Liberia, who was traveling to Calabar for an ECOWAS meeting.
The victim was suspected to be having the virus upon his arrival at the Muritala Muhammed Airport in Lagos on Wednesday, and was taken to the Lagos Teaching Hospital for proper diagnosis and treatment.
He, however, died in the early hours of Friday despite intensive care.
Meanwhile, the Minister has urged all Nigerians not to panic, while pleading that citizens should be at alert and be conscious of their hygiene.
The Minister also said that contacts have been made with the airline and passengers that travelled with the victim for proper monitoring to avoid spread of the virus.
The Ministry has also made phone numbers available for the public to call in case of emergencies.
Ebola virus currently has no vaccine. The deadly virus which can claim a life within two days if contracted, is believed to be transmitted by bats and primates like monkeys and chimpanzees.