PVC Distribution: INEC Decries Poor Response In Abuja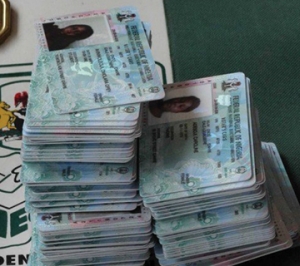 National Commissioner of the Independent National Electoral Commission (INEC), Dr Chris Iyimoga, has appealed to residents of Abuja to come for their Permanent Voter Cards (PVC), before the deadline of March 8, 2015.
The former Director of FCT Council for Arts and Culture, who spoke after an inspection of some collection centres in the Federal Capital Territory, decried the low turn out of residents to collect the cards.
Some residents of Abuja had condemned the ongoing collection of the Permanent Voter Cards (PVC) in the Federal Capital Territory for what they called "inadequate awareness and sensitisation of the public".
Some of the residents said that they got to know about the exercise when they saw people gathering at Polling Units, while a resident complained that he could not find his name on the collection list.
"The information was not well circulated, the awareness was low and I did not hear about it at all. I was on my way to work when I saw a crowd.
"I decided to check out what was happening and discovered a board has been put up with incomplete names," he said.
However, Dr Iyimoga has stressed that only seventy-one per cent (71%) of the Permanent Voter Cards had been collected.
He urged the residents of the Federal Capital Territory and its environs to go to their Polling Units to collect their Permanent Voter Cards in order to vote the candidates of their choice in the coming general elections.