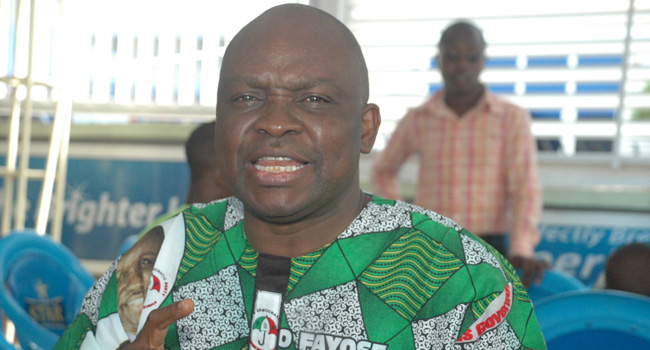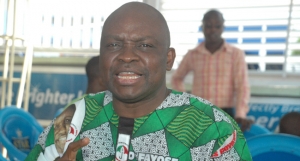 The governor of Ekiti State, Ayodele Fayose, has advised members of the All Progressives Congress in the State's House of Assembly to jettison their plan to impeach him, saying it is a 'joke of the century'.
Responding to a purported impeachment notice, Governor Fayose asked the APC lawmakers to stop acting like jesters, saying, "the script being acted by the APC is a failed one because no one, no matter how highly placed he is, would be allowed to test the will of Ekiti people".
The notice posted online and signed by Dr. Adewale Omirin, as the Speaker of the House, read: "Please, find attached herewith, allegations of gross misconduct made against your persons by a total of 19 members  of the Ekiti State House of Assembly in pursuance of the Provision of Section 188(1) of the Constitution of the Federal Republic of Nigeria 1999 (as amended).
"You are hereby informed that you are at liberty to respond to the said allegations in writing within seven days hereof".
The governor described the purported notice as a "joke of the century" and reminded the lawmakers that "the Speaker of the Ekiti State House of Assembly is Hon Dele Olugbemi and not Dr Adewale Omirin."
In a statement issued on Saturday , the spokesman to the governor, Lere Olayinka, said "Dr. Omirin is already in court, challenging his impeachment and common sense dictates that when you are challenging an action already taken in court, you have accepted the consequences of such action pending the determination of the suit you filed."
The governor further urged the APC  lawmakers to stop advertising their ignorance and crudity in the market place by posting impeachment notice online.
"Since last year November, these so-called lawmakers abdicated their duties and ran to Lagos only for them to resurface on Wednesday, but they hurriedly ran away again.
"Now they are posting notice of impeachment signed on March 9, 2015 and Ekiti people are asking, was the motion for impeachment moved and adopted in Lagos or Osun State House of Assembly?
"Is impeachment of a governor done along Lagos-Ibadan Expressway inside a moving bus?
"Rather than going about advertising their ignorance and crudity, the APC  lawmakers should wait for the court to adjudicate on the case they filed because even the President-elect, Major General Mohammadu Buhari (Rtd) would respect the rule of law when he assumes office," the governor said.