Boko Haram Recaptures Marte, Borno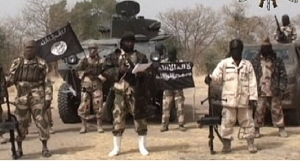 Boko Haram militants have once again struck in Borno State, capturing the town of Marte. 
Reports say the terrorists, who fled from their base in Sambisa Forest, as offensive heightened in the area, have regrouped in Marte.
The Deputy Governor of Borno State, Zannah Mustapha, confirmed the recapture of the town by Boko Haram.
He also alleged that 600 women and girls had been dispatched by the terrorists, as suicide bombers, with the aim of causing multiple explosions in Maiduguri, the capital of Borno State.
The Deputy Governor, who had to cut short his official engagements in Abuja to attend to the situation in the State,  said residents must be patient with the security agencies in spite of the attendant hardships caused by the dusk to dawn curfew.
There was an attack on Kayamla village on Wednesday. The attackers launched the offensive through an area called "Cashew Plantation" behind Giwa Barracks, the headquarters of the 7th Division of the Nigerian Army.
The attack by the insurgents and subsequent bombardment by the military had resulted to an earlier 24 hour curfew declaration, which was later relaxed to 12 noon to 5:00pm.
Counter-terrorism operations have continued in the north-east. The military had pushed out the terrorists from Adamawa and Yobe States, with concentration now on the Sambisa Forest in Borno State, a major stronghold of the terrorists.