IDPs Call For President Buhari's Help To Return Home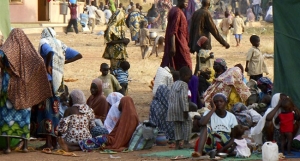 Hundreds of people at the Internally Displaced People (IDP) camp in Abuja, Nigeria's capital, have called for fresh action by the new administration on the terrorist group, Boko Haram to enable them return home.
Many of them, who have found refuge at the camp for close to six years, complained of lack of attention by the government, save for the charity or religious groups who donate clothing and food items from time to time.
Surrounded by a thick forest, the IDP camp is complete with everything from utility store, to market and recreation centres.
Most of the camp's residents have been there for more than six years since their villages came under attack by the Boko Haram sect, while others from surrounding towns have lived here for close to ten years.
Thousands of children reside in the camp with limited educational opportunities, lack of basic amenities and common health challenges.
A Businessman in the camp, Andrew Davies, expressed that with a new administration in place, all they want is visible change that would enable them return to their normal lives.
Another resident, Ladi Isaac, told Channels TV that she heard the news of the hand-over over the radio and hoped that it would bring greater progress in the battle against the terrorists.
It has been a particularly bitter experience for 34 year old John Peter, who had his mother and sisters abducted by Boko Haram. He also expressed hope that President Buhari's administration would help bring them home.
The extent of the camp for several years is largely unchanged but the population has grown and the residents wait in anticipation to see what the change in government would translate to in their lives.