Saudi-Iran Row: Kerry Calls For Calm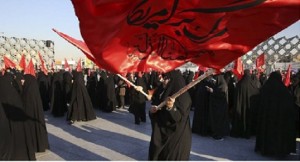 US officials have said that the United States is trying to mend fences between Saudi Arabia and Iran.
Secretary of State, John Kerry, has appealed to both sides to remain calm while State Department spokesman, John Kirby, explained that the phone conversations involve foreign ministers of both countries and the Saudi Deputy Crown Prince.
Saudi Arabia cut diplomatic ties with Iran on Sunday after protesters hit the Saudi embassy in Tehran.
Both countries are major rivals in the middle east and back opposing sides in the conflicts in Syria and Yemen.
On Tuesday, Kuwait said it was recalling its ambassador from Tehran, describing the attack on the Saudi Embassy as a "flagrant breach of international norms".
Saudi allies Bahrain and Sudan broke off diplomatic relations with Iran on Monday and the United Arab Emirates (UAE) has also downgraded its diplomatic team in Tehran.
On Monday, the UN Security Council issued a strongly worded statement condemning the attack on the Saudi Embassy – making no mention of the execution of Shia Muslim Cleric Sheikh Nimr al-Nimr and 46 others on terrorism charges.