Iraq To Intervene In Iran/Saudi Row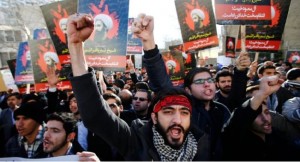 Iraq has sent its foreign minister to Tehran with an offer to mediate in an escalating feud between Saudi Arabia and Iran, reflecting Baghdad's fears that new sectarian conflict could undo its campaign against Islamic State.
On arrival in Iran, the Iraq Foreign Minister told journalists his country has solid relations with Iran and Saudi Arabia and therefore cannot stay silent in the crisis.
Saudi Arabia's execution of Shi'ite cleric on Saturday has inflamed sectarian anger across the Middle East, infuriating Iran.
Powerful Iran-backed Shi'ite militia called on Iraqi Prime Minister, Haidar Al-Abadi on Wednesday to shut a Saudi embassy that reopened only last month after decades of strained ties.
Saudi Arabia cut diplomatic ties with Iran on Sunday after protesters hit the Saudi embassy in Tehran.
Both countries are major rivals in the Middle East and back opposing sides in the conflicts in Syria and Yemen.
There has been immediate reaction from Saudi Arabia to the Iraqi mediation offer.