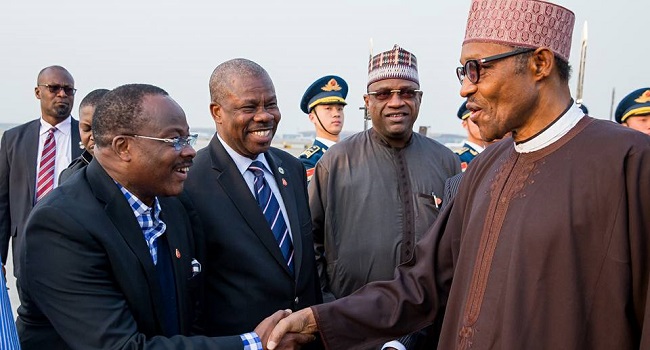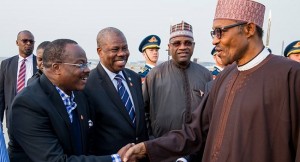 Nigeria's President, Muhammadu Buhari, has arrived in the People's Republic of China for a state visit.
According to the President's spokesman, Mr Femi Adesina, President Buhari was welcomed at the Beijing Capital International Airport by China's Assistant Minister of Foreign Affairs, Mr Cheng Guoping, alongside other senior Chinese government officials.
Also at the airport were the Governor of Oyo State, Abiola Ajimobi, Governor of Ogun State, Ibikunle Amosun, and the Governor of Yobe State, Ibrahim Geidam.
Other Nigerian government's functionaries at the airport were the Minister of Trade and Investment, Okechukwu Enelamah, Minister of Transport, Chibuike Amaechi, Minister of Water Resources, Suleiman Adamu, and Minister of Defence, Dan Monsur Ali.
The President left Abuja on Sunday for a working visit to China aimed at securing greater support from Beijing for the development of Nigeria's infrastructure, especially in the power, roads, railways, aviation, water supply and housing sectors.
Considering Chinese Panda Bond
It is expected that in the course of the visit, several new agreements and memorandums of understanding to boost trade and economic relations between Nigeria and China would be concluded and signed.
The agreements include a Framework Agreement between the Federal Ministry of Industry, Trade and Investment and the National Development and Reform Commission of the Peoples' Republic of China to boost industrial activities and infrastructural development in Nigeria.
Others are a Framework Agreement between the Federal Ministry of Communications and the China Aerospace Science and Technology Corporation, and a Memorandum of Understanding between Nigeria and China on Scientific and Technological Cooperation.
Nigeria's Minister of Finance, Mrs Kemi Adeosun, had told reporters after a meeting with the business and investment community early on Saturday in Lagos, that the government was considering the possibility of issuing Chinese panda bond to make up for the deficit in the 2016 budget.
She said that the government's objective was to borrow the cheapest possible money.
The breakfast meeting focused on the imperatives for fiscal discipline, investment and diversification of the domestic economy in the face of strong local and international headwinds such as the steady decline in oil prices and weak global economic growth.