Channels Nat'l Kids Cup: Osun Beat Edo 5-4 To Win 3rd Place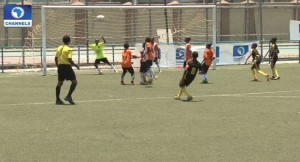 St. James Government School from Osun State defeated Edo State's Arinze Primary School in the third place match of the Channels National Kids Cup on Friday.
The Edo boys lost to the Osun boys 4 – 5 in the penalty shootout after both teams maintained a goal apiece till the end of the second half.
The final is between LGA Mohammed Primary School, Kaduna and Que Iboe Primary School from Kogi State.
The finals, which complements the Children's Day celebration is expected to kick off soon at the Teslim Balogun Stadium in Lagos, southwest Nigeria.