Budget Process Challenges Overwhelm Relative Progress, Saraki Says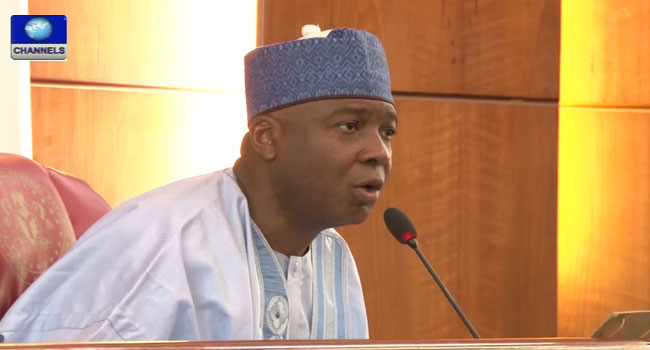 The National Assembly says it acknowledges its flaws in the passage of Nigeria's 2016 Budget.
The Senate President, Dr. Bukola Saraki, made the statement in his opening speech at a joint session of the National Assembly in Abuja, Nigeria's capital.
The lawmakers said although they made relative progress in the passage, the challenges they encountered were far beyond their achievements.
They, however, noted that the 2016 budget process benefitted from the synergy and consultations between the legislative and executive.
At the Wednesday's joint session, President Muhammadu Buhari personally presented a budget proposal of 7.298 trillion Naira for the 2017 fiscal year.
It has in attendance, the Vice President, Professor Yemi Osinbajo, the ministers and the Service Chiefs among other government functionaries.
Senator Saraki's speech read: "It is my pleasure on behalf of my distinguished honourable colleagues to warmly welcome you, Mr President and your entourage to this joint session of the National Assembly.
"Mr President, while we may have struggled with key aspects of our budget process in the past, I'm happy to note that we have made some important progress. To start with, we have seen the budget presentation coming slightly earlier this year.
Review Budget Systems
"Though we hope to see an even greater improvement on this in the coming year, but more importantly, however, is that so far in this year's budget process, it has benefitted from greater cooperation and consultations between the National Assembly and the Executive.
"Mr President, I wish to note that the National Assembly recognises, however, that the problem with our budget and budgeting processes goes far deeper than the relative progress we have made.
"This is why in august this year, we inaugurated a joint executive and legislative committee, and a technical committee to review our budget systems and identify ways we can make them more transparent, more participatory, more result-oriented and therefore more effective. The committee has since submitted its report and the National Assembly already started a process of implementing the recommendations".