Immigration Job Seekers Die In Stampede, Blame Service Authorities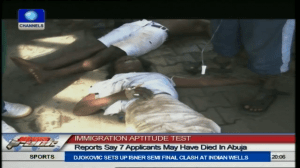 Unconfirmed reports say that 7 persons may have died and several others injured following a stampede at the National Stadium, Abuja.
This was the venue of an aptitude test for the 2013/2014 applicants who had applied to join the Nigerian Immigration Service.
Eye witness account said that over 56,000 graduates had gathered at the National Stadium as early as 7am on Saturday morning to take part in the recruitment exercise conducted by the Nigeria Immigration Service when the incident occurred.
The Public Relations Officer of the National Hospital, Mr Tayo Haastrup gave assurance that those injured were receiving medical care, while a few others had been taken to the Garki and Asokoro General Hospital.
One of the applicants, who spoke to Channels Television, explained the circumstances leading to the stampede, "I was here before 7, and we were begging them to open the gate because the crowd was getting too much but they refused to open the gate. So people who were at the back were pushing us because the crowd was too much and people had to march on others and that pushed the gate down."
Another witness said, "This is complete leadership failure, and the sooner the people in Government wake up and assist people who are unemployed (the better). I am employed, but the truth is that people are actually dying. We saw people dying here and it is wrong, something must be done."
The Nigeria Immigration Service recruitment examinations took off in various centres around the country but due to the State of Emergency declared in 3 states of the country, applicants from Borno State were required to take their exams in Gombe, Yobe applicants in Bauchi, while candidates from Adamawa were to write theirs in Taraba State.