LAW WEEKLY: Former Lagos Commissioner, Sashore Proffers Solution To Terrorism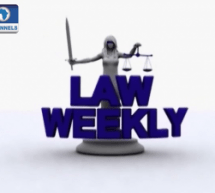 On this edition of Law Weekly, former Attorney General and Commissioner for Justice, Lagos State, Mr Supo Sashore, speaks about the nation's security troubles, particularly in the North East region.
One issue in the news that has got everyone on edge is the rising wave of violence in the country. While many continue to condemn the bombings and kidnappings, some people have also advocated for new strategies to nip it in the bud.
A former Vice President, Atiku Abubakar, is one of those who think that it is time for Nigeria to accept foreign assistance in fighting terrorism. Some lawyers who spoke to Law Weekly on the recent violent attacks also proffered some solutions.
Speaking on the programme, Sashore proffered solutions to combat the security challenges, speaks about the crisis with the appointment of a Chief Judge for the Rivers State judiciary. He also shared the Lagos agenda for the National Conference where he is one of the delegates.
Mr Shasore expressed belief that local intelligence and state policing are options which must be explored to combat the security challenges facing the country. This, he said, was something the Lagos State Government had always advocated.