Once Flourishing Maiduguri Railway Terminal Now In Ruins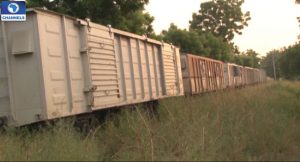 The once flourishing railway terminal of Maiduguri, the Borno State capital, now lies in ruins after years of closure.
Residents recount the good old days when trains were the backbone of their local economy.
The railway terminal and the abandoned trains have now been overgrown by grasses while internally displaced persons occupy some parts.
A middle aged widow of a retired railway worker says life was a lot easier in the days when the railway transport was functional.
The railway transportation came with several business opportunities for locals and provided able bodied young men with gainful employment culminating into the creation of a railway village.
It was a major means of transportation in Nigeria before poor maintenance culture and lack of attention to the sector brought it to an almost comatose situation.
Few meters away from the office terminal lies the rubbles of the birthplace of Boko Haram under the leadership of the late Muhammad Yusuf, a beneficiary of the railway himself.
Many idle youths living in the area were reportedly lured and recruited by the group, according to the community leader who recounts his childhood days when everyone was gainfully employed.
The revival of the Kaduna and Gombe State train station gives hope to residents of Maiduguri yearning for the reopening of their own train station.
At the moment,the Nigerian government is looking at concessioning the railways
It has opened negotiation with GE to concession the Lagos, Kano, Kaduna, aba, Umuahia, Enugu, Bauchi, Gombe and even Borno among others, the Minister in charge of the sector told Channels Television.
The Minister of Transport, Mr Chibuike Amaechi, hopes the concession will be concluded by March 2017.
While these train coaches are abandoned in northern Borno, in the southwest region, Lagos State is Nigeria's commercial nerve and train coaches appear not to be enough for train users.
Daily, users of train, most of whom have paid for tickets but could not get a place to sit, resort to hanging on the body or climbing to the top, a situation that calls for government's quick intervention in the sector that holds huge potential of serving as an alternative and reliable means of transportation in Nigeria.