The governorship candidate of the All Progressives Congress (APC) in Ondo State, Mr Rotimi Akeredolu, made a mockery of the Peoples Democratic Party on Monday, saying he will defeat the party's factional candidates if put together in the polls.
Mr Akeredolu made the statement after a meeting with President Muhammadu Buhari in Abuja.
He was led to the Presidential Villa on Monday by the Governor of Plateau State and Chairman of the APC governorship campaign in Ondo State, Mr Solomon Lalong.
Briefing reporters after the meeting, Akeredolu boasted that if the two factional candidates of the Peoples Democratic Party (PDP), Jimoh Ibrahim and Eyitayo Jegede, combine forces and contest against him, he would emerge victorious at the poll.
President Buhari's visitors were confident of APC's victory in the forthcoming election.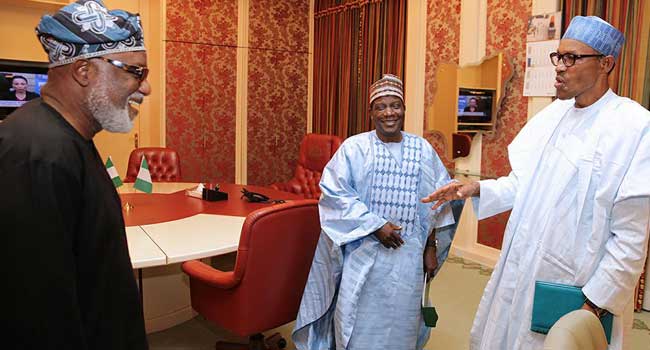 Form The Next Government
The APC governorship candidate in Ondo State had appealed to his co-aspirants in the primaries to come together and work for the success of the party at the November polls.
Addressing his supporters at the party's secretariat in Akure, Mr Akeredolu said that his concern was to only relate with the people of the state and no other person or group, with the aim of bringing change into their lives.
He was of the belief that irrespective of the current challenge of the party, the APC would form the next government in the state.
The visit to the Presidential Villa follows a list of candidates for the Ondo governorship poll published by the Independent National Electoral Commission (INEC).
INEC selected Akeredolu as the APC flag bearer while Ibrahim was chosen over Jegede to represent the PDP in the election.
The list also revealed Mr Olusola Oke as the candidate for the Alliance for Democracy (AD).
The choice of Mr Ibrahim triggered a protest staged by supporters of Mr Jegede, who claimed he was the legitimate candidate of the PDP.