Military Intensifies Counter-terrorism Operation In Sambisa Forest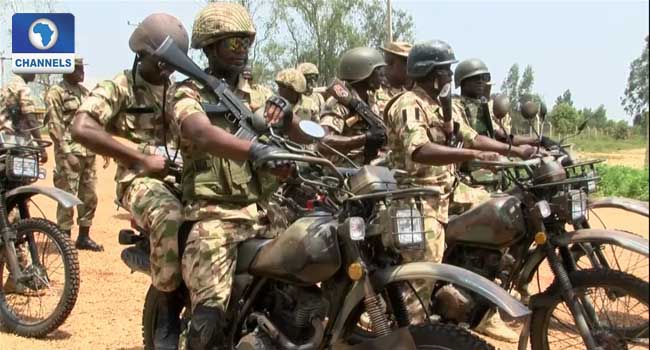 Counter-insurgency operations are ongoing in the notorious Sambisa Forest in northeast Nigeria, to clear remaining Boko Haram terrorists in the area, the Chief of Defence Staff, General Gabriel Olonisakin, said on Sunday.
He says the army is not relenting in its counter-insurgency war.
General Olonisakin gave the assurance during an operational visit to the Theatre Command and headquarters of the Operation Lafiya Dole in Maiduguri, Borno State.
The Chief of Defence Staff told journalists in Maiduguri that even though the "Operation Safe Corridor" initiative was open for repentant insurgents to surrender, it would not in any way suspend operations.
"There's always a room for them to surrender. We put up Operation Safe Corridor initiative to have them surrender. That is the corridor for them to surrender and that corridor is always open.
"However, we would not wait until they surrender. That is why the "Operation Crack Down" now leading to rescue finale is in place to ensure that we take over Sambisa, clear the Boko Haram terrorists in those places and make the place safe for development," the Defence Chief stated.
During the visit, he inspected vehicles reconfigured by military technicians in the seven Division to give a boost to the counter insurgency operations.
Gun trucks, Operational vehicles and War battle tanks were some the vehicles remodelled by the transport battalion and now set for use.
Expressing delight with the military equipment, he said: "I commend the creative efforts of our troops because most of this vehicles have been re-roled. They were not manufactured for what they are doing but they have re-roled them for operational use.
"I want to commend their efforts and also the initiative of the Chief of Air Staff to encourage this troops to do this in the prosecution of this operation.
"These vehicles are quite important and necessary to get some of them out there. They are quite expensive but the ones here that have been reconfigured to do the same which would have been procured at a very expensive rate is really a commendable effort," he added.
More efforts to flush out the terrorists are needed in the northeast, something a cleric said should be considered paramount to ensure that Internally Displaced Persons returning to their communities do not face renewed attacks.
The Primate of the Anglican Communion in Nigeria, Most Reverend Nicholas Okoh on Sunday called for more efforts from the Nigerian Army in protecting Nigerians living in the volatile north east.
Most Reverend Okoh believes that such intensity in checking the activities of the Boko Haram in the region would quench renewed attacks by the terrorist group.
Over two million persons have been displaced in the region, with UN agencies raising fears of death of children, nursing mothers and pregnant women due to malnutrition.