Rights lawyer faults INEC survey on voter apathy
A report commissioned by the Independent Electoral Commission (INEC) on the root cause of voter apathy in the 2011 general elections in the country has come under heavy criticisms.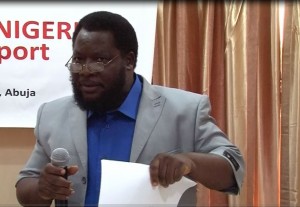 One of the critics of the report and Human Rights lawyer, Femi Aborisade questioned the data provided by INEC in its voter apathy survey. He said the survey lack content validity and without practical solutions.
Criticising the seventy page report commissioned by INEC, Mr Aborisade listed twelve shortcomings of the research findings earlier presented by lead researcher, Adigun Agbaje.
"If we assume that apathy can be measured by voters' intention, the conclusion we can draw from the presentation of the lead researcher and the research report is that voter apathy is low in Nigeria or almost non-existent. But we all know that this does not conform to reality and our experiences," he said.
Mr Agbaje however insisted that the findings of the research he supervised, is scientifically accurate.
"I am convinced that this is as scientific as we can get," he said.
He said like other researches, the research on voter apathy had some obstacles.
"We have infrastructure challenges. For instance, there are some data that is supposed to be with INEC that they should have given us during the research but we could not get and there was nothing we could do about it," he said.
The report which is a self-critique of INEC's performance at the 2011 general elections blamed the commission, the government and politicians for voter apathy which is primarily responsible for bad governance experienced in the country.
In the survey conducted across twelve randomly selected states in the six geo-political zones of Nigeria, seventy-three per cent of the respondents adduced violence and inadequate security as major reasons behind voter apathy during the 2011 general elections.
INEC through this research report seeks to entrench democratic stability by reducing voter apathy and ensuring good governance. But the reviewer stamped his own observations on INEC's inaction over the incessant political parties in the country.
The INEC's Chairman of Electoral Institute, Lai Olurode said that they reason why INEC commissioned the research was to ensure that people have a say on who govern them.
"Election is a multi-dimensional kind of activity and in all facet people want to be sure that they have a say," he said.
According to INEC, addressing the issues associated with voter apathy in Nigeria may go beyond apportioning blames, but ensuring laid out policies and interventions that would tackle the growing phenomenon ahead of the 2015 general elections.