EURO 2012, a make or mar for senior Oranje boys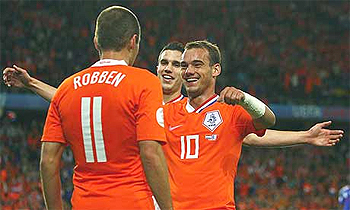 It's going to be battle to the last in the 2012 European championship for the likes of Robben, Sneijder,Rafael van der Vaart and Van Persie; senior Oranje boys as this might their final shot at the European title.
This is  because most of the star players Bert Van Marwijk brought together as a squad are at their peak as a chance at EURO 2016 which will be hosted France might be a dream too hard to come to pass for the key players When players such as Rafael van der Vaart, Wesley Sneijder and Arjen Robben all broke into Netherlands' senior side in the early years of the 21st century, the Dutch's hopes of winning a major trophy for the first time since 1988 were raised.
After failing to go all the way at the European Championships of 1992, 1996 and 2000, Oranje finally seemed to have another generation that looked capable of following in the footsteps of the 'Heroic Holland' of Frank Rijkaard, Ruud Gullit and Marco van Basten.
Nevertheless, despite the seemingly perfect combination of established stars and promising youngsters, Netherlands once more stumbled on their way to glory at Euro 2004, regardless of some inspired performances from Sneijder, Van der Vaart, and most notably Robben. The nation's new stars were not too disappointed, though, after their semi-final exit against Portugal.
It was quickly pointed out that they were still young, and would undoubtedly get another shot at glory. Indeed, that chance would come four years later at the European Championship in Austria and Switzerland. Players like Dirk Kuyt, Robin van Persie, Joris Mathijsen and Nigel de Jong had by then become key players for the side as well, and Oranje went into the tournament with a young, yet already relatively experienced, team.
Despite being paired with 2006 World Cup finalists Italy and France, the Dutch progressed to the quarter-finals with ease, and were immediately seen as the stand-out favourites to win Euro 2008. However, they crumbled under the pressure, again, as Russia proved to be too strong after extra time to end Oranje's title dreams.
Indeed, eight of the 11 players who are expected to start in Oranje's opener against Denmark are between the age of 25 and 30, with Jetro Willems, Gregory van der Wiel, and Mark van Bommel, as the only exceptions who are aged 18,24 and 35.
It's therefore fair to say that Euro 2012 is the perfect, and probably the last, opportunity for the likes of Van der Vaart, Robben and Co. to finally live up to the expectations, as there is a big chance that they will not be around in France in four years' time.
At Euro 2016, Van Bommel, Kuyt and Mathijsen will all have left the team, while Van der Vaart, Robben, Sneijder and Van Persie will all be in their thirties when the next tournament kicks off.
Although it is by no means a certainty that the latter four will not make another European Championship, it appears to be a safe bet that this summer's tournament will be the last shot at European glory for at least one of them.
For now, Netherland's key men are all in superb condition, though, and they will be desperate to take full advantage of it in Poland and Ukraine. Facing opponents such as Denmark, Germany and Portugal in the group stage will be an uphill task, but the realisation that Euro 2012 could very well be their last shot at European glory will a motivating factor for these star players to put their best forward so as to achieve their dream and that is lifting the European cup.