The Nigerian Senate has threatened to issue a warrant of arrest on the Attorney-General of the Federation (AGF), Mr Abubakar Malami.
The threat is coming weeks after the Senate summoned the Minister to explain the rationale behind his action on charging its principal officers to court over forgery.
Mr Malami shunned the call to appear before the Senate Committee on Judiciary and Human Rights. Although he sent a representative, the Committee refused to grant him audience.
The lawmakers condemned the Minister's refusal to honour their invitation.
They said that the same rules of the Senate was used in the administration of its proceedings during the ministerial confirmation process which brought the AGF to office, as well as other top government officials.
Pleaded Not Guilty
The Senate President, Dr. Bukola Saraki, and his deputy, Senator Ike Ekweremadu, were arraigned before Justice Yusuf Halilu of the Federal High Court along with a former Clerk of the National Assembly, Mr Salisu Maikasuwa and his deputy, Mr Benedict Efeturi.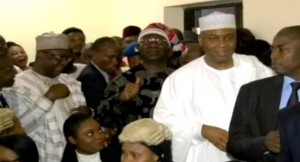 All four accused persons, who were charged for alleged forgery of the Nigerian Senate Standing Rules, pleaded not guilty to the two-count charge.
Justice Halilu subsequently granted them bail and adjourned the proceedings till July 11 for commencement of trial.
Although they were present in court on Monday for the commencement of hearing, the Court Registrar informed the parties that the court was on vacation, hence the case would be adjourned.
Violation Of Separation Of Powers
In his reaction, Senator Saraki described the action by the AGF as misguided and alleged that there now exists a government within the government of President Muhammadu Buhari, who "have seized the apparatus of executive powers to pursue their nefarious agenda".
He reiterated his innocence and that of Senator Ekweremadu of the charges, claiming that the charges represent a violation of the principle of the separation of powers between the executive and the legislature as enshrined in the nation's constitution.
The Spokesman of the Senate, Aliyu Abdullahi, also noted that contrary to the claim by the Secretary to the Government of the Federation (SGF), Mr Babachir Lawal, neither Dr. Saraki nor Senator Ekweremadu were mentioned by the petitioners, the statements by those interviewed by the Police or even the Police report.
He stated that as regards the facts of the 1999 case, it was obvious that the Senate President and his deputy were not being accused of certificate forgery as it happened in former Speaker Salisu Buhari's case.